Enjoy moments of relaxation and tranquility
We have modern facilities in the Spa of our hotel in Alcudia designed to avoid stress and daily routine. Entering the Wellness & Spa area you will find the peace and tranquility desired for your holiday in Mallorca.
The entire space has a dream view of the garden areas of the hotel, the pool and outdoor fountains, so the feeling of relaxation is absolute. We want you to enjoy an unforgettable experience through the elements at your disposal.
We are one of the most special Spa hotels in Alcudia, ideal for romantic getaways as a couple or for family visits. We offer the best treatments and relaxation techniques, which will transport you to a state of maximum comfort.
The accumulated tensions and any signs of stress will be forgotten, reaching a perfect harmony between body and mind.Let yourself be taken care of and relax, we will look after the rest.
---
Wellness in the spa of our hotel
Services
Our Spa is located on the 1st floor of the hotel, and let you connect with a state of relaxation and total well-being. It is surrounded by wide and diaphanous windows with natural light, what contributes to making your moment of comfort even more special. Upgrade your stay with a Spa & Wellness Access and let us pamper your body and soul that includes a pool cap and slippers. (Spa & Wellness access: € 4. Complimentary for Suites). Prior reservation is required to access the spa.
Our SPA will open its doors to families one hour a day, so that children can enjoy its services (+4 years). Get informed!
Jacuzzi
Steam bath
Pool
Chromatic showers
Heated stone bench
Ice pick
Sauna
Massage room
Opening hours:
- Spa area: from 10:00 a.m. to 7:00 p.m. (last access).
- Wellness area: from 10:00 to 18:00 (last access).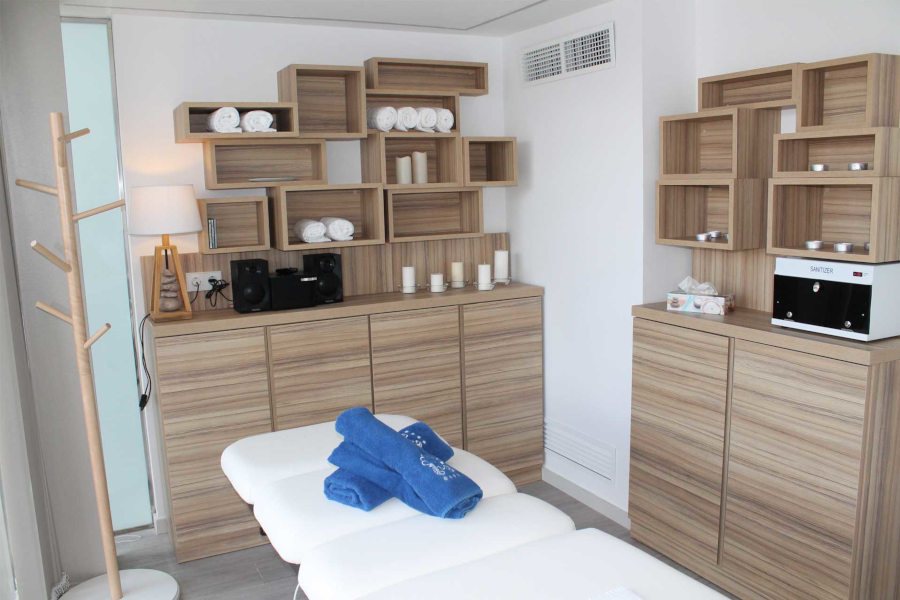 At the Spa of our hotel we offer various types of massages, all of them with the aim that your stay with us is completely satisfactory and get to the desired state of well-being. We have the best qualified professionals in the field, who personalize their massages techniques to the needs of each client.
We also have facial and body treatments, rituals, aromatherapy, as well as aesthetic and hair removal service.
* Please note that to access the facilities of the Wellness area it is required to purchase the SPA hygienic kit, which includes flip-flops and a cap (cost € 4 per person)
See chart